---
Why You Should Care About Consultative Selling
Over the last several years journalists and experts have advised printing companies they must change to be competitive in a multi-channel communications world. Many print providers have responded by updating hardware, software, and technology. We think the key to successfully generating revenue from those investments, and the way to expand your business, is by adopting a consultative approach to working with your customers. We've already helped many clients make that transition.
Consultative selling is different from the method used for decades in the print business, best described as "commodity" or "transactional" selling. In a typical print services sales presentation, the salesperson spends most of their time describing what their company has to offer. The conversation is dominated with details such as printing specifications, papers, finishing capabilities, mail preparation, and volume price breaks.
Today - "Here is what we have – want to buy it?"
In a print focused, commodity-type relationship, the print services discussed are generally available from many providers and the buyer has many vendors to choose from. The most important distinguishing factor is price. Customer loyalty is tenuous at best. If you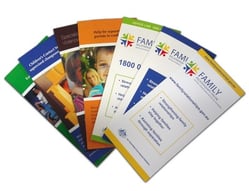 are selling print in a price based relationship, the value of continuing to do business with your company can be easily diminished or eliminated by lower prices touted by the competition.
Transactional customer relationships are a bit stronger than commodity selling in that a print service provider may have developed a niche or specialization within a certain market or service. Their record of performance and limited competition allows them to charge more, but leaves little room for expanding customer relationships beyond that particular area of expertise. Customers may keep coming back because there are no viable options. Once they find an alternative though, accounts become vulnerable.
Tomorrow – "Here are some ideas to help you achieve your goals…"
Instead of focusing on the products and services they want to sell, consultative sales people take the time to find out what the customer's wants to accomplish. The real customer objectives are not low-cost postcards or beautiful four-color brochures. It will take some probing to find out the business goals and results those printed items will help generate. Common customer business objectives may include gaining market share, achieving higher dollar value per sale, generating website traffic or improving customer retention.

The consultative approach perhaps shouldn't be called "selling" at all. Business development is a more accurate description of the process used to gain a more thorough understanding of a customer's business and finding ways to increase the value your printing company can provide them. This process definitely takes longer than quoting jobs. Your sales people should not expect to see sales results after a single customer visit. Sales people need to learn how to disconnect the relationship-building activities necessary in consultative selling from the concept of quick, one-shot sales success.
CONCLUSION:
Fortunately, the techniques used to gain a customer's trust and truly understand their needs are skills that can be learned. We'll be covering what sales people need to know and how they must change to pursue a successful career in consultative sales in a future blog post. If you have immediate needs in this area, please get in touch with us by clicking on this button.
---