Gimbel & Associates received the award for sharing their concept for Strategies for Continued Growth in Print Services. Using a live link between New York and Tokyo Gimbel & Associates demonstrated their visionary ideas to this group of print and print related companies from all over the world.
"We presented "The Future is here… Strategies for Continued Growth in Print Services! To this group of print and print related companies from all over the world and are humbled to have been recognized for this innovation" said Roger P Gimbel, EDP, and President of Gimbel & Associates. "The IPN is comprised of some of the world's leading companies in the industry, so we understand the magnitude of the recognition."
The IPN is the world's largest and oldest network for independent print partners, who work together to assist their international clients with global print distribution. This print and marketing distribution model has allowed international companies to better control their brands and to greatly reduce freight costs and delivery time in supporting their sales channels globally.
---
2019 Fall International Printer's Network Meeting
Tokyo, Japan
November 9-12, 2019
Roger P. Gimbel, EDP and President of Gimbel & Associates was in attendance at the annual IPN Global Fall meeting held this year in the vibrant city of Tokyo, Japan. This year's meeting theme was "Henkaku" : the journey of innovation and trans-formation" and is sponsored by Ricoh.
For more than 20 years, IPN Global has been forging friendships and serving global companies. Today their organization represents almost 50 leading-edge companies in the printing, visual communications and graphic arts industry in more than 200 locations around the globe.
IPN members meet twice a year at different locations around the world to share strategy and build trust. Members know each other well and have a deep understanding of each other and each other's business and capabilities. It's through trust and friendship that members are able to work together for the benefit of their global clients and their own businesses. It's also why they've been able to build significant amounts of successful business.
For more information on IPN membership and services go to:
---

Kay Bailey Hutchison Convention Center. Dallas, TX October 23-25, 2019
Roger P. Gimbel, EDP and President of Gimbel and Associates will be attending the Printing United show being held in Dallas, Texas. PRINTING United, a new event owned and operated by SGIA in partnership with NAPCO Media.
Focusing on the opportunities presented by the convergence of printing technologies and markets, PRINTING United will cover print and finishing technologies in industry segments from garment to graphic, packaging to commercial, and industrial.
If you are interested in attending the event click the logo above for more information on registration and travel.
---
Roger P. Gimbel, EDP & President Gimbel & Associates joins Randy Swope for his successful seminar event at Print 19.

Enter the "Success Matrix" and Grow Your Commercial Print Business
Saturday, October 5, 2019 10:00AM - 10:50AM R40
The discussion on business growth for today's commercial printers is highly focused on technology considerations around such topics as inkjet, digital, workflow, and other process and production related concerns. In our strategic work with commercial printers of all size we constantly face a wall that challenges their senior management team. How to focus "On the Business" versus focusing "In the Business?" Day to day operations absorb the greatness amount of time of senior management, when where we are going an how is as important if not more so than what happened on the shop floor that day or what order did not get filled?
Utilizing the Success Matrix for Commercial Printers, Randall Swope will address the three key vectors that are involved in building a business growth strategy.
These include:
Meeting the Customer Value Proposition
Customer Experience
Superior Competitive Advantage
Randall will explore the following four key quadrants against these three vectors:
Branding
Price - in the Value Proposition Vector
Experiential
Frictionless -in the Customer Experience Vector
The strategy for business success is to LEAD in one of the quadrants, BE AMONGST the BEST in a 2ND quadrant, and BE GOOD in the remaining quadrants. We will be discussing how to formulate a business assessment using this matrix and focusing on key differentiators for customer value as it relates to the commercial print segment. Autonomous case studies will be used to highlight the key messages and Do's and Don'ts. The audience will be requested to participate in brainstorming inputs for the matrix as it relates to their experience in the commercial print industry. The audience will be challenged to take a leadership role in their company to start this important discussion internally.
Key Take Aways:
How to move beyond the day-to-day operations to focus on strategic thinking.
How to model business success using a proven matrix that applies to many business segments.
Understanding the difference between product/service benefits and customer value proposition.
Taking a leadership role in your business to move the discussion from "What went wrong today?" to "What do we need to do to be successful?
Who Should Attend?:
Business Management,Production,Sales or Customer Service,Marketing,Data or IT Services
Make sure you register for Randy's educational and directional seminar. Easy registration for the show and all events can be found on the Print 19 website:
https://www.printtechnologies.org/PRINT19/
---
2019 Fall International Printer's Network
Technical Meeting
Lindon, Utah
September 5-7, 2019
Alexander's Print Advantage recently hosted the 13th annual IPN Global Technical Meeting in Lindon, Utah.
This meeting continues IPN's successful series of annual technical meetings that have created the opportunity for technical staff from IPN member companies to get together, exchange ideas and learn from one another.
---

Roger P Gimbel, EDP & President of Gimbel & Associates will be presented at the Xplor 19 Conference.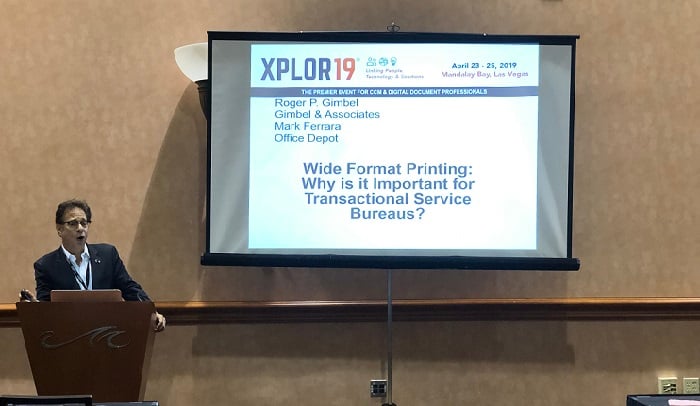 Wide format is a logical expansion of the growth of Inkjet Technology. Roger will be describing and discussing how wide format business is expanding and how service bureaus, commercial printers and retailers take advantage of adding these offerings to their portfolio! Both the challenges and benefits of integrating these offerings will be discussed. Roger shared a terrific success story!