2017 Xplor International, Orlando, FL
Caribe Royale, March 28-30, 2017
Greg Gantwarg, Marketing Manager,
Wilen Group will be lead an educational session titled, "Using Compliance to Drive New Business," at the recent Xplor 2017 Conference on March 28th .
Attendees learned how marketing strategies around compliance can increase customer engagement and drive new business opportunities. Discussions centered around compliance used to win strategic new business as part of an effective marketing strategy.
---

IPN Winter Meeting in Germany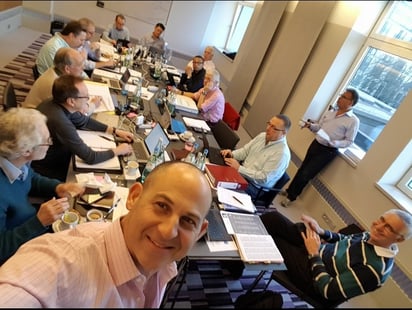 Warren Werbitt, Pazzaz Printing and IPN Board Member, includes all the board members in his recent selfie. Roger P. Gimbel (standing) addresses the board members.
---
Gimbel

&

Associates at Xplor '16
Customer

Engagement

by Choice

At the recent Xploration 16 event in April, Lois Ritarossi, VP of Gimbel & Associates and Alderano Fileni, COO of Print Laser Group, (pictured here) shared a story of change and choice. Print Laser Group, a trans-actional service bureau based in Brazil, has experienced many changes in their 13 year history. Some of the services they are providing today were clear strategic choices, and some were in response to requests from customers.
The goal of the seminar attendees was to take a way ideas on how their company can be successful in changing and winning new business with digital services.
This case study demonstrated the changes needed to evolve from a printer to a customer experience integrator. Print Laser h

as changed their sales process to: What are we selling? It isn't just print anymore. They now position the Value of their services differently. Print Laser realizes that their competition is more that the usual print bureau competitors and they are winning business. What are their customers buying? Scalability, flexibility, secure communications, data cleansing, data enrichment , tracking and verification. Their business model is now based on driving customer experience.
For more about the importance of selling Value, read our blog.
---

GRAPH EXPO 16, September 25–28
Orange County Convention Center—North Hall, Orlando, FL
The year's largest and most inclusive graphic communications exhibition and conference for the Americas will take place in Orlando's Orange County Convention Center.

Please join the EDSF Board of Directors for "Give Back @ Graph" EDSF Scholarship Night, Tuesday, September 27, from 5 pm - 8 pm, at the Hyatt Regency Orl-ando, Orlando, FL. Please come as you are… the event directly follows the closing of the exhibit hall for the day.
This is a great way to enjoy a fun filled evening while supporting the EDSF Scholarship program. Please join us along with our Master of Ceremonies Roger P. Gimbel, EDP, President of Gimbel & Associates, for cocktails and networking with key industry executives followed by dinner and live and silent auctions of some exciting products and packages donated by EDSF supporters. EDSF will also be recognizing the OutputLinks Communications Group Women of Distinction and hearing from the Next Gen…the scholarship recipients!
---
Kristin Anderson, Sr. Consultant
and VDP/web2print expert was

recently interviewed by WhatTheyThink?
Read Kristin's views on "taking web2print to the next level" by clicking the link below.
Self-Serve Omnichannel Marketing Campaigns - Taking Web2Print to the Next Level
---