Kay Bailey Hutchison Convention Center. Dallas, TX October 23-25, 2019
Roger P. Gimbel, EDP and President of Gimbel and Associates will be attending the Printing United show being held in Dallas, Texas. PRINTING United, a new event owned and operated by SGIA in partnership with NAPCO Media.
Focusing on the opportunities presented by the convergence of printing technologies and markets, PRINTING United will cover print and finishing technologies in industry segments from garment to graphic, packaging to commercial, and industrial.
If you are interested in attending the event click the logo above for more information on registration and travel.
---
Roger P. Gimbel, EDP & President Gimbel & Associates joins Randy Swope for his successful seminar event at Print 19.

Enter the "Success Matrix" and Grow Your Commercial Print Business
Saturday, October 5, 2019 10:00AM - 10:50AM R40
The discussion on business growth for today's commercial printers is highly focused on technology considerations around such topics as inkjet, digital, workflow, and other process and production related concerns. In our strategic work with commercial printers of all size we constantly face a wall that challenges their senior management team. How to focus "On the Business" versus focusing "In the Business?" Day to day operations absorb the greatness amount of time of senior management, when where we are going an how is as important if not more so than what happened on the shop floor that day or what order did not get filled?
Utilizing the Success Matrix for Commercial Printers, Randall Swope will address the three key vectors that are involved in building a business growth strategy.
These include:
Meeting the Customer Value Proposition
Customer Experience
Superior Competitive Advantage
Randall will explore the following four key quadrants against these three vectors:
Branding
Price - in the Value Proposition Vector
Experiential
Frictionless -in the Customer Experience Vector
The strategy for business success is to LEAD in one of the quadrants, BE AMONGST the BEST in a 2ND quadrant, and BE GOOD in the remaining quadrants. We will be discussing how to formulate a business assessment using this matrix and focusing on key differentiators for customer value as it relates to the commercial print segment. Autonomous case studies will be used to highlight the key messages and Do's and Don'ts. The audience will be requested to participate in brainstorming inputs for the matrix as it relates to their experience in the commercial print industry. The audience will be challenged to take a leadership role in their company to start this important discussion internally.
Key Take Aways:
How to move beyond the day-to-day operations to focus on strategic thinking.
How to model business success using a proven matrix that applies to many business segments.
Understanding the difference between product/service benefits and customer value proposition.
Taking a leadership role in your business to move the discussion from "What went wrong today?" to "What do we need to do to be successful?
Who Should Attend?:
Business Management,Production,Sales or Customer Service,Marketing,Data or IT Services
Make sure you register for Randy's educational and directional seminar. Easy registration for the show and all events can be found on the Print 19 website:
https://www.printtechnologies.org/PRINT19/
2019 Fall International Printer's Network
Technical Meeting
Lindon, Utah
September 5-7, 2019
Alexander's Print Advantage recently hosted the 13th annual IPN Global Technical Meeting in Lindon, Utah.
This meeting continues IPN's successful series of annual technical meetings that have created the opportunity for technical staff from IPN member companies to get together, exchange ideas and learn from one another.
---

Roger P Gimbel, EDP & President of Gimbel & Associates will be presented at the Xplor 19 Conference.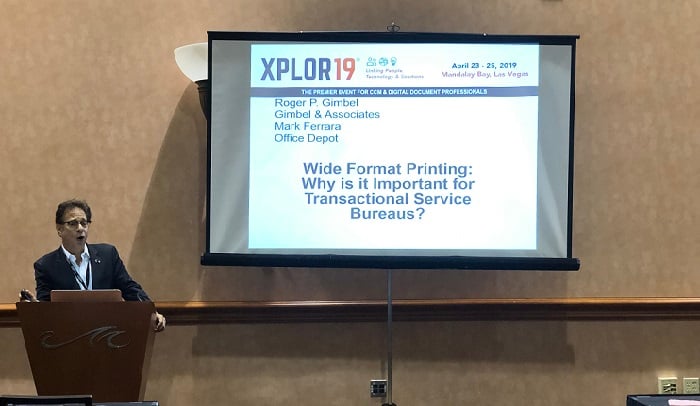 Wide format is a logical expansion of the growth of Inkjet Technology. Roger will be describing and discussing how wide format business is expanding and how service bureaus, commercial printers and retailers take advantage of adding these offerings to their portfolio! Both the challenges and benefits of integrating these offerings will be discussed. Roger shared a terrific success story!
---

2017 Xplor International, Orlando, FL
Caribe Royale, March 28-30, 2017
Gimbel & Associates and
Greg Gantwarg, Marketing Manager,
Wilen Group lead an educational session titled, "Using Compliance to Drive New Business," at the recent Xplor 2017 Conference on March 28th .
Attendees learned how marketing strategies around compliance can increase customer engagement and drive new business opportunities. Discussions centered around compliance used to win strategic new business as part of an effective marketing strategy.
---

IPN Winter Meeting in Germany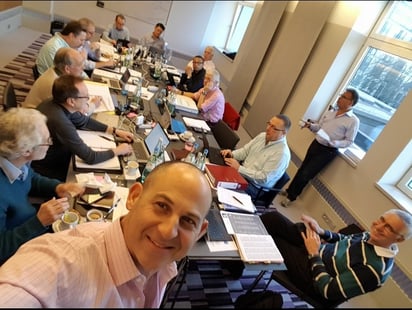 Warren Werbitt, Pazzaz Printing and IPN Board Member, includes all the board members in his recent selfie. Roger P. Gimbel (standing) addresses the board members.
---
Kristin Anderson, Sr. Consultant
and VDP/web2print expert was

recently interviewed by WhatTheyThink?
Read Kristin's views on "taking web2print to the next level" by clicking the link below.
Self-Serve Omnichannel Marketing Campaigns - Taking Web2Print to the Next Level
---