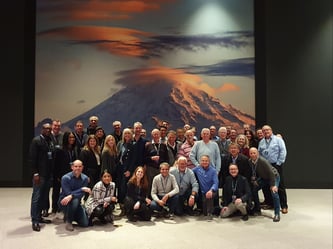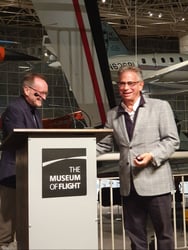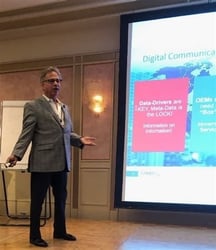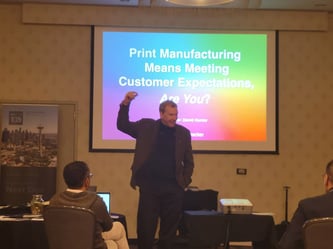 The IPN Global Team Visits the Seattle Museum of Flight Willem Juebels Honors Roger Gimbel Roger Gimbel Presenting David Hunter, ChromaChecker



International Printer's Network Meets in Seattle for Fall meeting, November 12-15, 2022
Roger P. Gimbel, EDP was honored at the Seattle Fall meeting of the IPN Global network of world wide printers for his attendance in 70 meetings. He is a previous IPN Chairman of the Board and is currently serving on the Board of Directors. This was the 100th meeting of the IPN Board of Directors, members and guests. At the meeting Roger presented the latest developments on cloud based printing in the US and how that might have global implications for new opportunities for all printers world wide. Roger also sponsored David Hunter who spoke to the group about his print color management system and the importance in plays in branding (such as G7 certification) through consistent color applications across a wide spectrum of equipment.
Gimbel & Associates is a proud member of the IPN Global network since it's inception. Because he stays abreast of all the latest developments through research as well as hands on experience with his partners, Roger Gimbel and his Sr. Consultant staff is able to draw a clear picture of the major trends in the US printing industry. Combined with their presentations, the IPN members present at the meeting held lively discussions about possible global business opportunities.
---
Roger Gimbel Is Invited to Lecture RIT Students about Print Consulting in Rochester, NY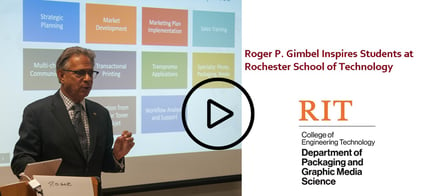 Oct. 3, 2022 - This short clip from Roger's lecture features advice and information on what it takes to do a business assessment and how Gimbel & Associates services benefit the print industry.
For information on Gimbel & Associates services or to invite Roger to speak at your school, contact info@rogergimbel.com.
---
Roger P. Gimbel, EDP - September 14, 2022 Book Signing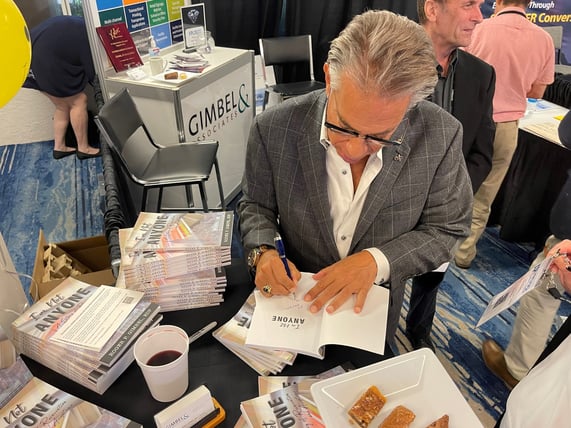 Roger P. Gimbel, EDP & President of Gimbel & Associates signed books for fans at the XPLOR 22 Conference in September. All sales proceeds go directly to the Herman L. and Audrey M. Gimbel Scholarship offered through PGSF.org.
Additional books are available on Amazon.com by clicking on the picture.
---
Roger Gimbel's Popular Print Industry Paperback Now an E-Book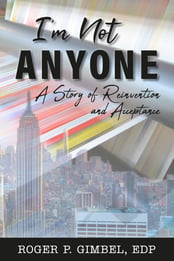 June 16, 2022
"I'm Not Anyone" by Roger Gimbel is filled with interesting anecdotes and stories covering the author's 50+ year career in the printing industry. The book is now available on Amazon in either paperback or eBook format.
"We've had great feedback from the paperback edition," said Gimbel. "People seem to enjoy the stories about the print business and my observations about industry trends and developments. I am grateful to all the book buyers who have supported the Herman L. and Audrey M. Gimbel Memorial Scholarship. Now we're adding the eBook."

Mr. Gimbel donates the book sale proceeds to the scholarship administered by the Print and Graphics Scholarship Foundation. His contributions impact the lives of college students focused on the graphic arts industry by supporting their education. The new low-cost electronic format will help distribute the book among college students who often have limited financial resources.
Roger Gimbel started his business career working in his father's print shop. Gimbel relates the events that steered his life, and sometimes changed his trajectory in "I'm Not Anyone", interspersed with a narration of developments in digital printing.
As reviewer Lance Drucker writes, "Roger Gimbel could be the most interesting man I know. I didn't realize this until I read his book, "I'm Not Anyone". I knew Roger to be a successful business owner in the printing world. I had no idea of his wild side. Motorcycles, drugs, clothes, clubs, yachts, and Forrest Gump-like experiences with some of the most iconic people in recent history."
Buy "I'm Not Anyone" now at Amazon in either paperback or eBook form.
---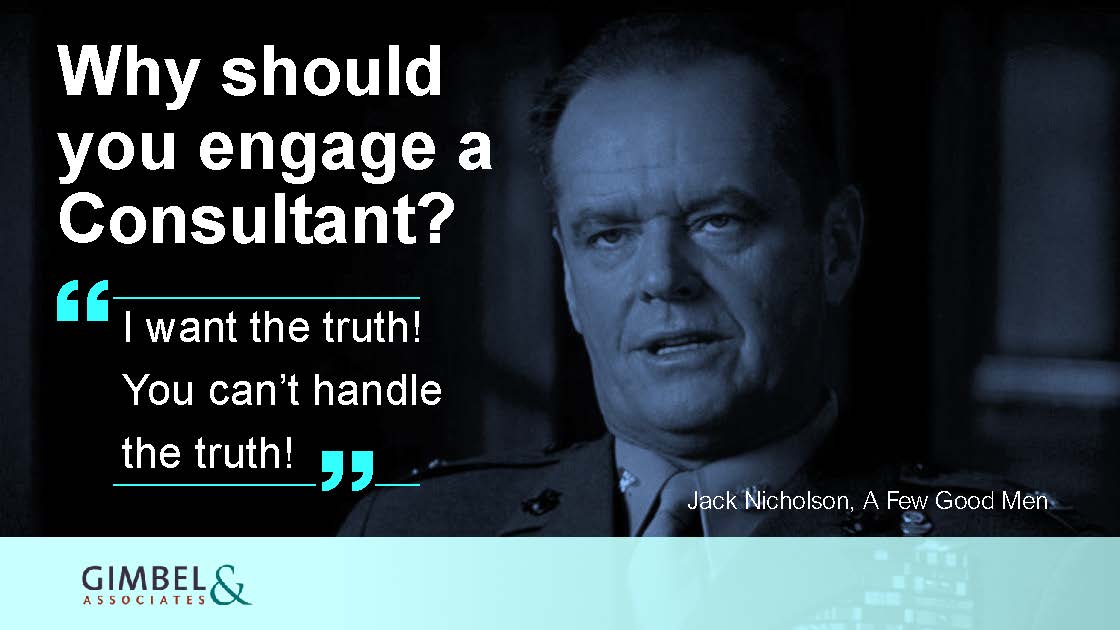 The best Consultants have lived most situations many times and usually know several ways to achieve the end state you desire. Before you select someone, there are many questions/discussions to have internally, so you'll be prepared to then have that external discussion. This XPLOR webinar originally delivered by Randy Swope, Sr. Consultant at Gimbel & Associates, will go over when it makes sense to hire a consultant and what to look for in selecting one, so you can get the most out of your engagement. To watch the webinar click on this link:
---
UPCOMING EVENTS
Navigating Your Inkjet Journey
If you missed it - here's the instant replay
Navigating Your Inkjet Journey can be a daunting experience. This session is meant for companies that are considering transitioning from offset or digital printers to inkjet print solutions or those who have already made the transition and are struggling to maximize their investment. We will discuss the key market forces that are driving the growth of inkjet as well as the key considerations you when making your decision and preparing for success.
The business case for inkjet needs to take into consideration not only equipment alternatives but also identifying what changes you need to make in your operations, workflow, and customer engagement. Preparing for the inkjet journey requires not only understanding technology but also understanding market forces and ensuring that you are positioning yourself for driving the business not letting the business drive you.

About the Presenter:
Randall draws on more than 30 years of international sales and marketing experience including living in multiple overseas assignments and regional management for Developing Markets. He brings a wealth of talent to bear by managing client consulting projects; developing strategy; providing organizational and business analysis; and conducting sales training and seminars for customers.
---
Recaps

IPN Board Meeting, May 2, 2022 - Deerfield Beach, FL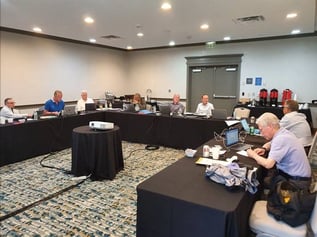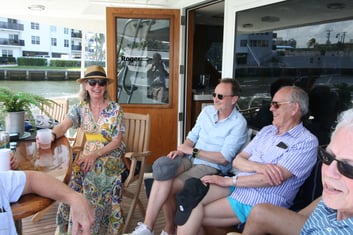 IPN Board Members met for their annual meeting this year in Deerfield Beach, FL. The IPN is a peer-2-peer network of entrepreneurs. Membership is vested in C-level executives, often the owners themselves, who then regularly attend IPN meetings to exchange knowledge, experience and innovations and to develop mutual business. All this is done based on relationships that are built over multiple IPN events. International Printer's Network Board Members enjoying a full day cruise on The Hattrick Yacht, Hosted by Roger P. Gimbel, EDP, President of Gimbel & Associates and IPN board member.