Specialized Solutions - Real World Success
We are an organization of professionals with years of experience in sales, marketing, technology, digital printing and distribution. With real world success and a hands-on approach, our team of consultants provide analyses and solutions that produce results.
Business Development Services
Enable clients to implement sales strategies for growth
Strategic Business Plans
I
dentify sales, marketing and operational strategies to create efficiencies and maximize revenue
Customized Sales Training
Develop and facilitate advanced sales skills for effectiveness with digital applications and vertical markets
MicroModeling
Utilize data analytics and predictive modeling to support data-driven marketing strategies and campaigns
Sales Management
Provide strategic recommendations for sales process and sales management effectiveness
Marketing Support Services
Develop marketing, branding, multi-channel campaigns and communication programs
Workflow Analysis
Assess hardware and software operations and provide strategic recommendations to achieve efficient and cost- effective operations
Strategic Partnerships
Providing guidance and consultation to form strategic partnerships to expand capabilities and provide alignment for new market segments.
---

The Print and Graphics Scholarship Foundation (PGSF) is a not-for-profit, private, industry-directed organization that dispenses
undergraduate college scholarships and graduate fellowship assistance to talented men and women interested in graphic communication careers. The mission of the PGSF is "To strengthen the print and graphic communication industry by providing scholarship assistance." To find out more about how to support scholarships in the print/graphics industry
click here
.

How to be Successful in Expanding Your Business Opportunities Globally
Most enterprise corporations today are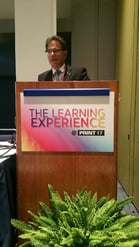 doing business globally or
have a desire to do to so. It's important to be able to pro
vide the same services globally that you provide locally. At Print17,
Roger P. Gimbel, EDP
, one of the original founding members of the
International Printers Network
,
shared his insights with seminar attendees in how doing work globally can increase local volume.
The session was very interactive.
---
Kristin Anderson, Sr. Consultant with Gimbel & Associates, Presents "Your Sales Dream" at the
XMpie Users Group 2016 Conference in Atlanta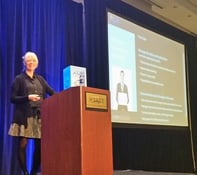 On November 14th Kristin Anderson spoke at the XUG16 Conference. Her topic covered selling an XMPie solution to match a client's business need and budget to your service and technical capabilities to provide a successful solution. The combination of sales skills, marketing application insight, technical knowledge, and production experience are all needed in order to come up with a win-win proposal each time.
Kristin discussed how to build your company's "Dream Team" using people you already have, and write job descriptions for new hires to fill in the gaps. She talked about the length of the sales cycle and and provided participants with a look at how to structure a proposal for an XMPie solution.
---