Cross-Channel Audience Recognition
Customers may limit inquiries with print service providers to quotes on print projects, but nearly all your customers are implementing multi-channel or omni-channel marketing strategies. A recent Winterberry Group survey showed 72% of organizations in the study were actively pursuing cross-channel audience recognition as a key business priority.
Multi-channel may seem threatening or intimidating to companies that create print for a living. If you don't have the experience and resources to handle multi-channel campaigns, how will you support your customers?
One answer is something comfortable and familiar: direct mail.
Direct Mail for Customer Acquisitio
n
Direct mail is less disruptive to consumers than electronic communication methods. Mail also has no spam filters, ad blockers, or junk folders that prevent messages from reaching the intended recipients.
Most digital channels aren't effective for customer acquisition. High volumes in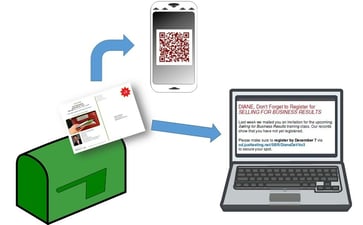 email, social, search, and online display advertising now saturate those methods. It is difficult to gain attention from targeted prospects. Read rates for individual messages are dismally low. Unsurprisingly, consumers don't welcome unsolicited promotional messages in their inboxes, and social feeds.
Several recent studies show direct mail is an important starting point for establishing a multi-channel or omni-channel relationship with customers. The surveys offer insights into how marketers plan to take advantage:
An Infotrends (now Keypoint Intelligence) study disclosed two-thirds of consumers receiving catalogs reported they read or review them "regularly" or "almost always".
A Winterberry Group whitepaper listed direct mail as the channel best suited for customer acquisition, ahead of email, social, search, mobile, online display ads, and broadcast.
In Target Marketing Magazine's most recent Media Usage Survey 50% of marketing companies said they are increasing their prior year's customer acquisition budgets. The survey named direct mail one of the top two channels most effective for customer acquisition.
What About the Other Channels?
When direct mail steers consumers to online content they respond. They watch product demonstrations, make purchases, enter contests, or download coupons. Direct mail may also encourage consumers to seek information and peer reviews on social networks. Mail opens these additional channels of communication. Once marketers have established individual relationships, they know how to use channels like email and search, the most effective methods for upselling and cross-selling.
Unless marketers are willing to settle for sub-par conversion rates to initiate customer relationships, none of that multi-channel activity takes place unless direct mail first opens engages the consumer and opens the gate. An effective direct mail piece is the best way to expose potential customers to digital content that eventually convinces them to buy.
This is where print service providers can add value to the success of multi-channel strategies. They are experts at creating and delivering compelling messages in sales letters, postcards, and coupons.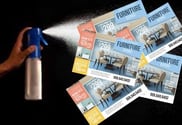 Forget A
bout Spray and Pray
Though dire
ct mail is familiar territory for print service providers, they can't rely on old school mass mail techniques. In the Infotrends survey, 84% of respondents said they were more likely to look at direct mail personalized or customized to their interests.
Customers now expect companies to use available information to compose pertinent messages, regardless of the channel in which the message is delivered. Generic direct mail will undoubtedly produce unimpressive results.
Fortunately, digital and hybrid printing technologies have made it possible for nearly any print service provider to offer variable data printing. More complex data, matching personalized mailpiece components, and incorporating techniques like personal URLs (PURLs) or Quick Response (QR) codes may be new territory for some printers though. Service providers may need to find a partner, recruit new employees, or train the staff to create the integrated direct mail marketers want.
Selling Direct Mail as the Multi-Channel Gateway
Print service providers could make a good sales presentation by focusing on just a few facts:
Direct mail is the best channel for customer acquisition
Personalization and customization improves direct mail effectiveness
Print service providers can easily connect direct mail to digital channels
Email and social are natural next steps after establishing a relationship via direct mail
Emphasizing a print provider's vast knowledge of printed communications that produce a desired result should be easy. It doesn't require experience with multi-channel marketing or digital delivery channels. Participating in multi-channel marketing strategies can be simple. Try viewing printed materials as the gateway to communicating via the other channels in a customer's marketing plan. Let print drive them to the web. Stress the importance direct mail plays in the customer acquisition portion of a multi-channel marketing strategy and show how mail boosts the effectiveness of the overall campaign.
Print is one important piece of the pie in an omni-channel world.
Sources:
Direct Marketing Production, Printing, and Value Added Services: A Strategy for Growth Infotrends 2015 (via an Xplor presentation)

Target Marketing Magazine Media Usage Survey 2017

From Theory to Practice: A Roadmap to "Omnichannel" Activation A Winterberry Group White Paper November 2016