Marketing and Sales Must Work Together
Creating a Business Marketing Plan for Inkjet includes several steps. Success relies upon an honest evaluation of the print service provider and a detailed analysis of customers, competitors, and market trends. If inkjet is new to everyone in the organization, or an introspective examination of the current condition is difficult, then ask for opinions from outside observers and experts to help build the business plan.
In Part 1 of this post we described assessment, review, and goal-setting activities necessary to establish a baseline and the desired objectives for developing new business for an inkjet platform. Part 2 focuses on the marketing and sales strategies print service providers must consider to achieve the desired outcomes.
Marketing Strategy
Print service providers achieving the greatest return on their inkjet platform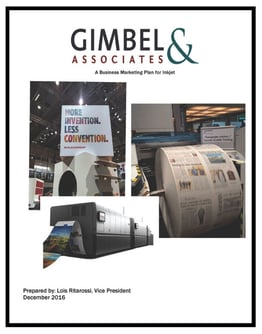 investments have approached marketing differently from their strategies for traditional offset or toner-based printing. Their focus is on using inkjet to help customers meet their marketing or customer communications objectives, rather than on the printed output itself. Creating awareness, interest, and demand for inkjet-enabled benefits is the job of the print provider's marketing strategy.
Inkjet-specific marketing materials can point out how a service provider's inkjet operation can:
Improve response rates for customer marketing materials by making documents more personalized

Use data to create relevant documents and images designed to improve customer experiences

Embed promotional, informational, or educational content in transactional documents

Reduce customer service calls by creating easily understood documents

Drive targeted messaging in other channels and integrate printed materials into multi-channel campaigns

Get documents produced sooner due to shortened proofing and preparation times
Though inkjet printing offers countless possibilities for variable data use, it has a few limitations. Print provider marketing plan can address educating customers about the differences between inkjet and offset and set realistic expectations about image quality, color reproduction, paper availability, and finishing options.
Service providers may develop specific marketing campaigns for major accounts. With their current knowledge of customer organizations, print service providers can tailor marketing messages to emphasize future opportunities or address specific challenges faced by companies with which they already do business.
Printing companies must also develop messaging for new clients. Composing materials to support desired customer perceptions is particularly important. For example, print service companies may want to develop a reputation for offering cutting edge solutions, or they may prefer to concentrate on being known for continuously enhancing their existing services to best meet client demands.
Websites must be updated to be consistent with the inkjet objectives and the desired company image. Adding a new service offering page to a website designed ten years ago does not communicate the company has invested in a new way to serve customers. A facelift may be necessary to suggest the company has evolved into a more contemporary organization.
Secure permission from customers to highlight successful inkjet conversions or describe new projects and publish customer case studies and testimonials. Produce videos, whitepapers, or eBooks and drive visitors to these resources with personalized output and direct mail printed on the inkjet platform.
Marketing and sales must work together to make sure the sales staff reinforces the marketing strategy themes and messages. Some organizations have marketing/sales teams dedicated to inkjet opportunities. They don't send commercial print salespeople into potential inkjet accounts unless the individuals have well-developed collaborative selling abilities.
Sales Strategies
Selling inkjet printing definitely requires a consultative selling approach, a topic we've covered extensively in our blog. For a brief tutorial about how to develop a sales staff, see Consultative Selling - Teaching Your Sales Team a New Approach
Inkjet sales strategies may differ with every customer. Salespeople cannot necessarily follow a step-by-step process that repeats for every opportunity. Customer goals and challenges create the situations inkjet printing can help solve. Customer circumstances can be diverse. Printing salespeople must probe to uncover the underlying issues and then propose solutions that leverage the power their inkjet platform provides.
Training salespeople on techniques is important, but so is training them about entering new vertical markets and showing them how to recognize where inkjet printing complements other services their company offers. Success demands strong sales management to coach salespeople and make sure their activities align with established sales and marketing strategies.
One important point to address in the sales strategy is defining rules for engaging with customers at higher levels. Marketing should help pave the way to securing appointments with important decision-makers and influencers within an organization, but salespeople should have guidelines for approaching these individuals. A poorly planned presentation can close the door on future conversations with prospects who rarely meet with printing company representatives.
A Business Marketing Plan for Inkjet is not a static document. Changes in technology, markets, economy, and competition can cause print service providers to modify their plans. We recommend scheduling a quarterly plan review that compares the documented objectives to actual results. Companies must stay nimble and responsive to client and market changes.