How To Turn Your Staff Into Consultative Sellers
In a previous post I pointed out the need to transition to consultative selling from traditional approaches used by most print service providers. This isn't an easy task. Retraining a sales team to use a different set of skills is a hard thing to do. It doesn't involve just the salespeople; it is an enterprise-wide effort. Top management must support consultative selling as part of their company culture to change the mindset from focusing on print jobs to enabling customers' business goals. It's about why they print, not what.
One of the most important concepts to ingrain in your salespeople is that relationships come first and selling comes second. Building relationships with customers includes developing trust and credibility. To earn that trust salespeople must take a true interest in understanding client needs, demonstrating empathy, and always maintaining integrity.
In most cases, sales reps are better able to develop these types relationships with senior executives rather than familiar customer contacts with whom they are dealing on a transactional basis. The C-suite people have a broader, visionary perspective on their businesses and truly value partners that enable them to achieve business goals. But these senior executives are also pulled in many different directions. Patience and persistence are important attributes of a consultative salesperson.
What is the Goal?
One of the first tasks to accomplish in the sales process is achieving clarity about the customer's objectives. What do they want to achieve for their company or their product in the next quarter, the next year, or beyond? Getting this information can be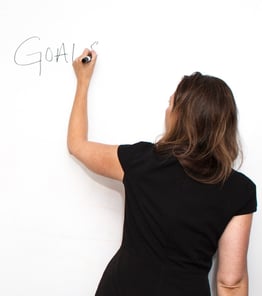 difficult. Clients are not always able to articulate their goals in concrete terms. Salespeople must keep asking and listening until they are confident they are on the same page as their customers.
When we work with sales teams, we spend a lot of time teaching them about what questions to ask. These questions must lead to a discussion about solutions, not print jobs. When done effectively, salespeople clearly present customers with options that support business outcomes. There is actually less selling going on if clear goals and objectives are defined early in the sales process. Salespeople can then enable their clients make the best decisions that will lead to the desired results.
How Do We Know If It Is Working?
Measurement is another key concept not generally practiced by print salespeople focused on selling print applications listed on their rate card. If the campaign or project didn't generate a positive outcome, it isn't the sales rep's problem. A printing organization working as a client partner however, isn't afraid to discuss integrated methods of measuring performance and results. As part of the team, they want to know about progress towards the goals. If adjustments must be made in the strategy, sales reps can help their customers decide on a new course.
Here is a summary of the steps consultative salespeople must follow to raise their status from print vendor to trusted customer advisor:
Engage - Clients begin to feel something is worth talking about. They focus their attention on what ideas the salesperson has to share.
Listen – Through acknowledgement, customers feel heard and understood. At this point the print salesperson has earned the right to suggest there are opportunities to address business needs.
Frame- Salespeople can articulate the key issues, goals, and customer pain points. Customers agree to move the conversation forward.
Envision – Salespeople share ideas and customers can envision the future potential results of various solutions.
Time to Start Making a Change
We believe selling print the same way it has been done for generations puts print service providers at a disadvantage. In comparison, cultural changes that embrace the concept of consultative selling builds customer loyalty in ways rarely achieved in this industry and enables healthy growth.
Learning more about how to migrate your organization to this new approach is the first step. Call us when you are ready.
---