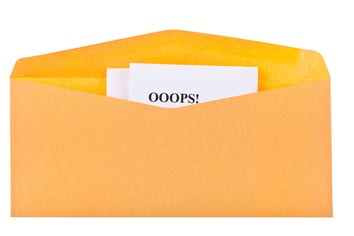 Print service providers don't always mail what they produce for their clients, but when they do, they must be clear about the rules and regulations administered by the US Postal Service. Generating mailings (or even designing mailings) without considering the mailing requirements can blow the client's budget, cause delivery delays, or depress campaign results. In severe cases the postal service might even reject the mail. Help clients get the most from their investments in printed and mailed communications and generate worry-free mail by being informed about mailing requirements.
Move Update
Move update is the USPS' regulation aimed at decreasing the volume of mail that requires forwarding, disposal, or returning to the sender. Besides diminishing the ROI on a mailing campaign, undeliverable as addressed (UAA) mail increases expenses for the USPS and delays deliveries. Mailers have choices about how they go about conforming to the move update regulation. The Postal Service approves of three methods:


Address Correction Service – This address correction method is accomplished post-mailing. The USPS electronically notifies mailers with reasons for non-delivery and address corrections. Mailers must correct their data so they don't mail to the same bad address again. Failure to correct addresses can prompt the postal service to revoke postage discounts allowed on previously sent mail.


NCOA Link™ – Pre-mailing address correction is accomplished via NCOA Link™. Mailers compare proposed mailing lists to the USPS national change of address (NCOA) file and must correct the addresses of anyone who has moved. Mailers must complete this processing within 95 days of the mailing to satisfy the move update requirements.


Ancillary Service Endorsements – Endorsements printed on the mailpieces or encoded in the intelligent mail barcode tell the postal service what to do with UAA mail. Mailers can choose to have the pieces returned to them, have pieces forwarded if possible, or receive separate notices. Use caution when implementing Ancillary Service Endorsements, especially for Marketing Mail. Fees and return postage costs can be substantial if the mailing has numerous undeliverable pieces.

In-Home Dates can Fluctuate
Timing is important. Clients want assurance of when their marketing mail will be delivered but predictability isn't always easy. In-home dates are obviously important when promoting a sale or an event, but multi-channel campaigns also rely heavily on when direct mail arrives in consumer mailboxes.
Unlike First Class, the USPS sets no standards for delivering Marketing Mail. Local deliveries generally occur in 2-5 days while national delivery can take up to 21 days. The wide delivery window challenges mailers requiring a precise in-home date. Fortunately, mailers have options that will help them predict in-home dates more accurately:
Informed Visibility (IV) – Intelligent mail barcodes printed on mailpieces and on pallets and other mail containers allow the USPS to track the progress of mail as it moves through the delivery network. IV has shown steady improvement since mail tracking was first introduced and now features near real-time status updates. Mailers can use the IV data supplied by the US Postal Service to trigger the release of other communications such as emails or text (SMS) messages. They can also use IV data from previous mailings to predict delivery dates for their mail in various regions across the country.


Drop Shipping – Instead of entering all the mail for a national campaign at their local postal facility, mailers can truck the mail (at their expense) to sectional center facilities (SCF's) nearest the delivery addresses. The USPS discounts the postage on such mailings, which can offset the trucking cost. Many mailers enlist the services of logistics firms specializing in transporting mail to postal facilities to coordinate drop shipments. By dropping the mail at locations near the actual USPS delivery units, mailers can more accurately control the in-home dates of their marketing mail.
Mailpiece Design
The USPS establishes specifications for postcards, letters, folded self-mailers, flats, and parcels to allow the pieces to run efficiently on postal equipment. Clients don't always understand the requirements. They might design materials that incur surcharges, re-classify the mail, or get rejected by the post office.
Clients have been known to place text or graphics in areas reserved for the address block and barcode. Other design issues can include unacceptable aspect ratios, material that is too stiff, improper self-mailer construction, and uneven envelope contents.
Get Mailing Advice Early
Ideally, clients should consult with their print/mail service provider before they settle on a mailpiece design. Many USPS rules apply only in certain situations and the regulations change from time to time. Clients shouldn't be expected to be familiar with them all.
If printers have questions about particular mailpieces, they can always ask for guidance from Mailpiece Design Analysts (MDA's) from the post office. It is much easier to make design changes before the material is produced. Modifying the existing mailpieces or re-printing the job after discovering the pieces don't meet USPS guidelines will be expensive and result in dissatisfied clients.
Gimbel & Associates can help you improve production workflow and gain efficiency to improve your digital program. Sign up for our free, one-hour consultation.