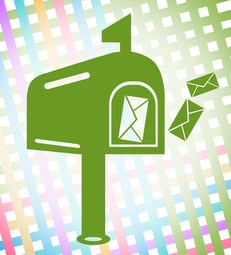 In the early 90's, VDP was the anxiously awaited "next big thing." The concept was solid. The dream persevered as the industry impatiently awaited fast enough network file transfer speeds and on-demand press output capacity. Undaunted early adopters tested the waters and proved the value. Over time it became a viable option for any printer who wanted to play.
In parallel we experienced the advent of internet publishing and the scramble to figure out how to monetize it. Company resources became focused on figuring out online marketing. Marketing attention to VDP direct mail was sidelined, eclipsed, or incorporated. The same underlying concepts for VDP served as the foundation for the (then) shiny new data-driven web sites, digital marketing, and marketing automation.
Now, due to the ramifications of significant, imminent restrictions within the sphere of digital marketing, plus worldwide shifts from the pandemic, marketing is at a new juncture, and it is time for online and print marketing to become inseparable. This is the message I left with after a day attending The Variable Data Print and Mail Summit put on by the Association for Print Technologies (APTech) on April 14.
While there were many excellent technical implementation sessions, I was listening for business strategies and new opportunities for print and marketing service providers. Here is a summary of the recurring themes which caught my attention.
TAKEAWAY #1: RECIPIENTS EXPECT RELEVANT MARKETING
The internet changed audience expectations for all aspects of the customer experience. Each person knows that companies have a lot of personal data, and the expectation is for marketers to use what they know wisely. Relevant messaging and accurate targeting gain the respect and trust of your prospects and customers; it is appreciated. Especially with Millennials and Gen X-ers, opting-out and changing brands are the par for the course if messaging does not seem to fit. Variable in print is no longer a "nice to have" but a consumer requirement to match the experience we have all become used to online.
TAKEAWAY #2: THE END OF 3rd PARTY COOKIES IS GOOD FOR DIRECT MAIL
Have you shopped for sports shoes and, even if you bought a pair, the models you looked at keep popping up in ads for weeks? That's what 3rd party cookies enable. In 2022, Google will stop supporting 3rd party cookies, thereby preventing automatic retargeting of 3rd party ads. Apple is tightening control over the access to 3rd party data on their devices. It is expected that more online services will follow suit. This is a blow to online marketers who have come to rely on these capabilities. In 2021 marketers are capturing as much data as they can to beef up their 1st party databases and are rethinking how to use that data strategically. During this transition, they are looking to their vendor partners for new ideas. With fewer effective options in digital media and growing pressures for "opt-in" vs "opt-out" laws, the pendulum is expected to swing back toward print marketing. The good news for the VDP direct mail industry is that marketers now think in terms of hypervariability by default and it is a logical extension to apply the strategy to print.
TAKEAWAY #3: PRINT IS A DIGITAL MEDIUM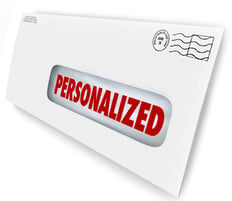 Does the term "VDP," in relation to direct mail, need to be redefined or even retired? All digital media have variable elements based on customer-specific data. On-demand print has this same capacity, and so it smoothly fits into the category of a digital medium. To a marketer, view is a view is a view whether that is an Instagram ad, an email, or a postcard. The goal is the same as it has always been in direct marketing; serve the right message to the right person at the right time. The unique details to solve the equation for any marketing effort are what determine which media are needed to support the goal. And variable digital print has its rightful place within that equation.
Multiple speakers noted that companies who were using VDP direct mail during 2020, particularly as part of their digital strategy, succeeded very well. It is accepted that variable direct mail used in conjunction with digital marketing significantly increases the retention rate and the overall response rates of omnichannel marketing.
TAKEAWAY #4: DIRECT MAIL MAY NO LONGER BE THE EXPENSIVE OPTION
Digital marketing has the reputation of being cheap and of being less expensive than direct mail. That may be old news. In his session, Jon Budington, CEO of More Vang, discussed how cost per click has been increasing along with the demand. Throughout this same time period, particularly due to production inkjet presses, the cost of digital print has been going down. His company looked into his clients' digital marketing spend. "The average ad word click-through rate right now is $2.32…for the client to be able to give me a dollar per head, I can actually come up with a print deliverable that includes postage."
Another flip is that a mail piece is more likely to be noticed than a digital ad or promotional email. We've learned to ignore the flashing product photos in the browser edges. People get so many emails per day now that they often don't even open promotional emails. But who doesn't retrieve their postal mail promptly? With paperless billing, online publications, emails instead of letters, emojis instead of cards, etc. a person may receive only a few pieces of postal mail a day, which makes it easier for any single mailer to stand out. The item is tangible, will be in a person's hand, and the person needs to give it mindshare long enough to determine whether to keep it or throw it away. The default amount of user engagement is higher, and relevance is the difference between the desk and the trash.
Adding up the stellar response rate of a well-targeted list with hyper variability in the messaging, the amount of attention paid to the print piece, and impact on the overall omnichannel campaign's success, direct mail can win the cost and ROI comparison.
TAKEAWAY #5: QR CODES HAVE A BRIGHT FUTURE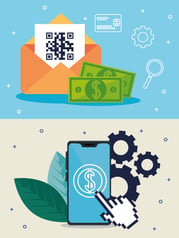 If you have ventured out for a meal at a restaurant this year, odds are that you got the menu via a QR Code. Sometimes there is not even a note next to it saying "Menu;" there is simply a QR Code taped in the middle of the table or by the pickup window. Everybody knows what it's for. A phone camera reads it directly, there is no more need for an app. People know what it is and how to use it, there is no more need for instructions. Due to the pandemic, QR Codes have become necessary and therefore used and familiar. This will increase their adoption and effectiveness on print pieces going forward. Variable QR codes in direct marketing will increase their impact.
CONCLUSION
In the context of a year of unanticipated and irreversible changes, thought leaders who can find the opportunities between the cracks are invaluable. I appreciated the proactive analysis and well-considered, fresh, forward thinking perspectives of each person who came together to make the Variable Data Print and Mail Summit an eye-opening, thought providing, invigorating, and, ultimately, reassuring experience.
To view the Summit in its entirety or to select specific topics sign up for free access at: https://vdpmsummit.vfairs.com/en