Departments in most companies often do their jobs independently. Marketing, creative, production and data groups exist in their own environments and are somewhat isolated from each other. Though this model has worked for a long time, things have changed in many verticals.
As print service providers migrate towards increasingly consultative relationships with their customers, coordination and cooperation among internal departments and external partners is becoming more important. Printers can distinguish themselves from the competition by delivering integrated solutions that produce measurable results. Customer situations are fluid and several departments and third-party partners must respond quickly to changing customer requirements. In this article we will concentrate on the relationship between creative and production teams.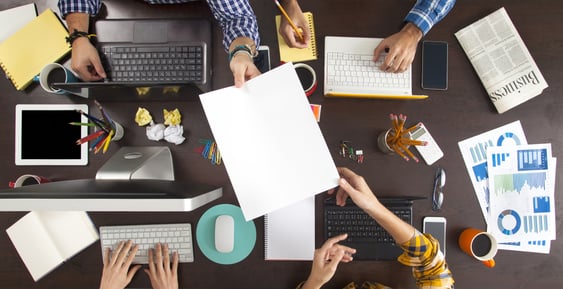 Creative teams and production departments must collaborate to work out specifications and confirm they can produce the desired designs and formats within the allowed budget and turnaround timeframe. For complex projects the creative team may be at an agency or part of the end-customer's organization and they must collaborate with a print service provider to execute a project or program. Without effective collaboration, the production team will waste time and money on changing designs and graphics, or suffer the impact of high production costs or unacceptable quality or turnaround times.
The creative team wants to leverage the latest techniques to wow the customer with their designs. They must also understand the limitations of production software and equipment capabilities and work within those constraints, which may seem overly confining. Often the creative teams don't understand the entire production process for documents and campaigns they are designing.
Production people focus on getting the work done in the shortest amount of time, with minimum hassle, while maintaining high quality. If presented with files unsuitable for the production environment or production requirements impossible to fulfill, entire projects and campaigns can be at risk. Then everyone loses. Production staff needs to be informed about project objectives and customer strategies so they can help the creative team make design decisions consistent with production department capabilities. They can help the creative team leverage new technologies to produce desired results.
As is often the case when two groups have contrasting points of view, production and creative departments may not appreciate the work each does to bring a project from concept to delivery. They may be critical of the other group's lack of understanding which leads to uncooperative working environments. This forces each department to fend for themselves or creates adversarial relationships with conflicting purposes.
Two Departments – One Outcom
e
Creative develops concepts, messaging, and formats consistent with the brand. They gather and secure variable assets like photographs, set criteria for variable substitution, and identify the unique messages and graphics relevant to the campaign's audience segments. They must be familiar with preparing art files, fonts, colors, finishing, available data, and many other details. The creative department produces the final artwork.
Production must be able to determine the requirements of each job, and institute effective techniques to set-up and automate production. They must be able to understand design, data, color, and substrate requirements to achieve the desired outcomes. The production department must evaluate the paper and media in relation to ink coverage and review folding, finishing, and postal requirements. They establish testing and quality control measures and set the production schedule.
Communication is the key to accomplishment. Lack of communication often leads to failed or difficult campaigns and projects. Interaction and alignment between multiple departments, and often multiple companies, is critical for project success.
Clarity on Project Goals – Assemble brainstorming, cross functional teams that establish well-defined project goals. Define the project's measures for success. Creative and production should enable all team members to have ownership of the project and their roles in the overall plan.
Communication Platform – Use a collaboration tool so team members from different disciplines can see documentation, provide input, and review team member comments. A common platform eliminates misunderstandings and keeps people on task.
Crawl, Walk, Run – Most successful projects start small, before they are refined and expanded. Don't burden teams with overwhelming complexity when implementing new strategies and programs.
Workflow and Project Diagram – Create a visual plan for the project and campaign. Many people learn better with pictures and visual aids. Plot each step, including all the branches, options, or decision points. This allows people to collaborate and bring new ideas for improvements.
Leaders are responsible for creating environments where the creative and production departments are focused on common goals and objectives. Projects are more likely to succeed when everyone understands the big picture and leaders facilitate internal and external communications with partners. Strong leaders identify and support cross-functional teams to work on projects. They acknowledge and give credit for collaborative efforts. Creative and production teams both win when great designs are well produced and generate measureable results.