Without designers, printers wouldn't have anything to print. The creative end of things is vitally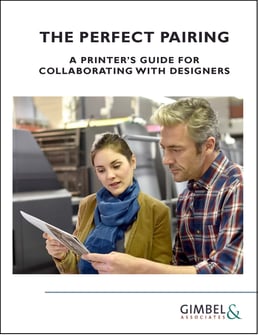 important, and decisions made by graphic designers can have an enormous impact on the quality, effectiveness, and cost of finished printed material.
Gimbel & Associates often covers the relationship between printers and designers because it's so critical to a printer's ability to satisfy their customers. We think everything works better if designers understand more about the print process and how printers can work more closely with designers.
That's why we put together this collection of stories and articles, all covering aspects of design and print.
Take a few minutes to read these short pieces and think of those times when designer decisions made a job more difficult than necessary or other occasions when you teamed up with designers to produce printed pieces that were fantastically successful for the client.
You may get a few ideas about what to do (or not do) next time.