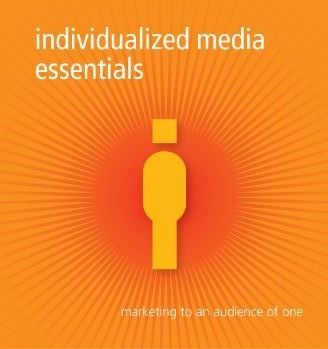 Increase Your Print Sales:
Here's an ideal vehicle for telling customers and prospects how they can generate enormous sales and revenue opportunities with variable-data printing (VDP). Written for marketers and printers alike, the individualized media essentials book focuses on how VDP is opening up individualized marketing, in which each direct mail piece can be tailored to the unique needs and buying preferences of every member of the target audience.
In this book you'll fnd:

A printer's ­perspective providing selling and workfow tips and considerations
A marketer's perspective describing the opportunities
Case studies and a useful glossary of industry terms and resources
A go-forward guide that outlines each player's role
Complimentary Copies Available
Gimbel & Associates has a limited number of complimentary copies of individualized media essentials available on a first come basis, one per person/company within the continental US only.
To get your free copy click on the book and fill out the order form. Your copy will be shipped in 7-10 days.

Read More
Topics: Announcements, Publications
---
"What would it mean to your business if 20 or 30 percent more of your emails were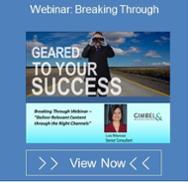 opened and responded to?" Clients and prospects want relevant specific content, and are overwhelmed by the amount of information coming at them every day.
Gimbel & Associates' webinar, Breaking Through, will enable you to breakthrough to deliver voicemail and email messages that generate results.

etting a response to your voicemail and emails is a challenge that impacts sales people in all industries. We have common communication tools, voicemail and email, but somehow these tools are far less effective than they were 3 to 5 years ago. While it seems reasonably to expect your customers or prospects to read and open your messages, we know it's just not so. So how can you craft messages that do get a response?
Grabbing the Customer's Attention
Set the stage for WIIFM or "what's in it for me." Create a specific relevant message for each client based on what is important to them. Most salespeople write and speak about their products and services. But your prospects don't care about your products and services. They only care about what is important in their role, in their company and in their industry. So your messages need to address what is important to them. For example many marketing and financial people are measured by quarterly results. As we approach the end of a quarter, you could create relevancy by acknowledging the importance of sales and marketing results for the end of the quarter. Do you know what your prospect needs to accomplish by the end of the quarter? How can your product or service help them with their goals or results? An attention grabbing subject line could be: 20 days left until second quarter starts…are you ready? First quarter results on target?
Read More
Topics: Announcements