The printing process is intricate and complex. Printing is a finely tuned and calibrated engineering feat with thousands of parts all moving in perfect harmony. On top of that,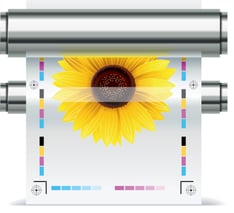 various technologies execute the function in different ways. While your customers needn't be exposed to all the details, a little bit of knowledge about printing technology can't hurt. Sharing information like this with your customers shows them you are a professional who has a thorough understanding of the industry.
Feel free to use the descriptions in this article to populate your own newsletters, blogs, emails, brochures or other communications aimed at your customers.
Offset Presses
Offset, or offset lithography, refers to traditional printing presses used to produce brochures,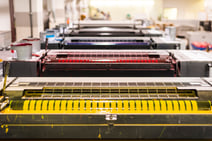 magazines, business cards, posters, books, flyers, and more. To use an offset press, we make a printing plate for each color to be printed. After the plate is inked, it transfers, or offsets, the image to an imaging roller, which then images the paper.
Offset uses the CMYK color system— cyan, magenta, yellow and black — along with premixed Pantone colors that ensure consistency. Many offset presses can handle up to 12 colors, and most can apply finishes such as varnishing and coating.
Offset presses print on a variety of coated and uncoated paper stock with a smooth surface. Their ability to consistently produce top quality output and brilliant colors make them a perfect fit for long runs of static pages.
Digital Presses
Digital printing refers to a press that prints directly from a computer. Digital presses don't use plates. We'll cover two press technologies in this category.
Electrophotographic or toner presses
Since the early 90s, toner presses have occupied a prominent place in the printing world. These machines use toner instead of ink and they can produce variable data print jobs. Modern versions produce high-quality color nearly indistinguishable from offset.
Short runs are economical on a toner press. Jobs such as personalized direct mail are especially suited to this technology.
Inkjet presses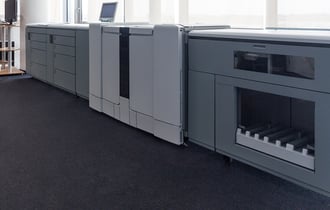 Inkjet presses use a contactless form of printing. Inkjet heads spray ink droplets onto a substrate, making inkjet presses very versatile. They can accommodate a huge variety of rigid and soft substrates in thicknesses up to about two inches. Inkjet can print on just about anything.
Inkjet presses are available in sheet fed and web models and produce the same products, including variable work, as toner presses.
Large-format devices which come in roll-to-roll and flatbed configurations are also inkjet presses. Some models are used to produce vehicle wraps, murals, billboards, and other large images. Large-format flatbed presses can print on rigid substrates like foamboard, glass, doors, or even tiles.
Flexographic Presses
Flexographic presses are web-fed devices. The material comes from a roll and the press uses rubber photopolymer plates with raised images. Ink is applied to the plates and transferred to the substrate.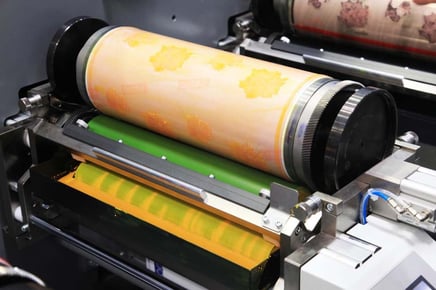 It can be very effective and flexographic presses feature the simplest imaging structure.
Labels and packaging are traditional uses for flexographic printing, but it can be used for books, newspapers, or inserts. Inkjet presses are making incursions into the flexographic market as well.
Dye Sublimation
Dye-sublimation is a printing process used to transfer ink onto fabric. A design is printed onto a special paper placed against the material. When heat is applied, the inks turn to gas and are transferred into the fabric. The results are nearly permanent, and will not crack, fade, or peel under normal conditions.
Dye sublimation presses print on polyester or other synthetic textiles for flags, banners, photos, novelty items such as cell phone covers, and other items that have sublimation-friendly surfaces.
Many printing projects can be processed using several different print technologies. Deciding which technology to use depends on production efficiencies, running costs of the press, run lengths, objectives, and optimum quality desired.
What's right for your business? Gimbel & Associates specializes in business assessments that can help you increase ROI and achieve financial growth. For your free 1-hour consultation