In April, 2017 the US Postal Service rolled out a new way for marketers to communicate with their audience. More than five million households subscribe to the free Informed Delivery service and the numbers are growing. With Informed Delivery, consumers receive daily emails containing scanned images of letter-size mail they will receive in their physical mailboxes later in the day.
Campaign effectiveness improves when marketers connect physical and digital channels. Informed Delivery is the easiest way yet to accomplish this feat. The program doubles consumer views of marketing material with no increase in cost or extra preparation. We're advising print service providers to update their clients about this opportunity to increase direct mail effectiveness.
Best of all, Informed Delivery messages from a trusted entity like the post office are registering open rates of 70%, substantially outpacing average email performance. 88% of enrolled postal customers check their Informed Delivery emails nearly every day. This news should encourage print service providers working with clients skeptical about the value of direct mail. This postal product has even impressed those hard-to-reach millennials. 49% of adults aged 18-34 said they were interested in Informed Delivery.
If it's free, how do I make money with Informed Delivery?
The new program offers several opportunities for print mail service providers. Most obvious is consulting with clients to re-design their outbound envelopes, postcards, and self-mailers. Service providers can add eye-catching text and graphics to the front of the material, making them stand out in both Informed Delivery emails and physical mailboxes.
For the greatest impact, use digital technologies to segment and personalize the envelope teasers. Besides extra revenue for personalization, client conversations about variable data on the outside envelopes will inevitably lead to discussions about personalizing the inside material as well. Service providers generate extra revenue for themselves, but most importantly focus client discussions on value-added services.
Informed Delivery Campaigns
Because the US Postal Service offers enhanced program features that make direct mail even more effective, smart service providers are recognizing new revenue opportunities with Informed Delivery. The USPS does not charge mailers for these features, making them attractive ways to add value.
Besides providing scanned greyscale images, the USPS allows mailers to provide full color supplemental content that encourages mail recipients to take immediate action directly from their morning Informed Delivery emails. The USPS refers to these capabilities as Informed Delivery Campaigns.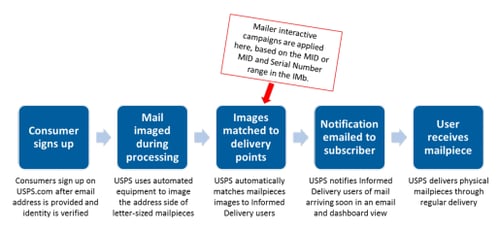 Service providers can charge clients for setting up Informed Delivery campaigns, sell website landing pages, collect and report on statistics, or handle fulfillment.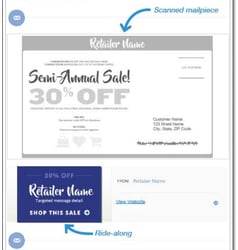 This presents the opportunity for additional design services to generate the color images used in Informed Delivery Campaigns.
Mailers can augment the USPS greyscale images in two ways, with Ride-along and Representative graphics. Ride-along graphics are clickable images that appear along with the greyscale USPS mailpiece scans. Mailers can also supply clickable text links.
Representative graphics are full-color static representations of the mailpieces. They replace the USPS greyscale scans in the mail recipient's daily emails. Mailers supplying Representative graphics will also provide Ride-along graphics and text links to encourage customer action.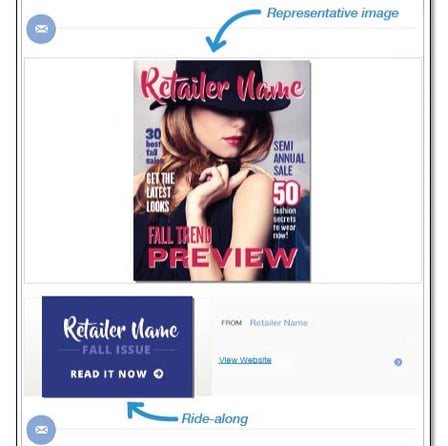 The postal service is scanning only letter size mail for Informed Delivery. Marketers can, however, use Informed Delivery campaigns to supply Representative graphics that will appear in customer emails. A matching greyscale image is not required, so the Representative graphics can promote un-scanned flats or periodicals.
How do they do it?
The USPS matches digital campaign elements to scanned mailpieces using intelligent mail barcodes. Marketers can even segment the campaign by specifying mailpiece serial number ranges. This functionality also allows service providers producing mail bearing their own Mailer ID (MID) to submit campaigns for multiple clients.
Requirements for submitting an Informed Delivery campaign are straightforward. The USPS has published complete instructions online: https://www.usps.com/business/pdf/informed-delivery-interactive-campaign-guide.pdf
Mailers submit campaign information to the USPS via emailed Excel files or Postal One. The Postal Service is testing a self-serve Informed Delivery Campaign Portal, scheduled to launch this fall. Mailers should work through the Informed Delivery Project Office to set up their initial campaigns. Service providers can reach the project office at: USPSInformedDeliveryCampaigns@usps.gov.
Prior to mailing, marketers can determine how many customers from their list have subscribed to Informed Delivery. The Pre-Campaign Saturation Report is composed according to 11-digit delivery point barcodes, so mailers must run their lists through postal software before requesting the report from the USPS.
After the campaign concludes, service providers can access metrics to share with clients, such as open rates and clickthroughs. Future reports will provide other valuable campaign effectiveness data.
The US Postal Service has published a list of planned enhancements that will make communicating with customers and prospects through Informed Delivery even more interesting as they add program features. Analysts expect the US Postal Service will eventually charge mailers for the most valuable components. Running campaigns now to get familiar with the process and helping clients add value to their mailed communications is a smart move, especially while the service is still free.
Informed delivery campaigns provides opportunities to be a leader with new integrated mailing services. To find out more about how Gimbel & Associates business development and marketing expertise can help you make more money,