In the first article of this two-part blog, we discussed the major considerations of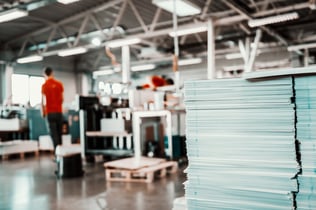 a business plan for a start-up printing company. This time, we'll look at other aspects that must be handled well to succeed in the printing industry.
Equipment and Software
If you're like most printers, you love equipment. The speeds, the colors, the rhythmic whir of the sheet intake and output — they're all mesmerizing. Even if you're not awed by presses and laser cutters now, you will be. It's inevitable.
In reality, you should be pragmatic about equipment. Before you buy, be sure about what you plan to print. Commercial printing presses fall into three basic categories: offset, toner, and inkjet. If you want to specialize in short runs or variable printing, a toner press is best. Long runs call for offset. Posters, POP, or signage lean to inkjet. Multiple options and suppliers exist within these broad categories. Before buying any equipment, consider outsourcing certain functions, like binding and finishing.
Software is becoming the engine of printing companies. Software generally falls into one of three categories: design, workflow, or MIS systems. Design tools feature prominently in the design and pre-press area. Workflow software is a general term for everything that happens to the printing file as it goes through production: file checking, proofing, imposition, press set up, and so forth. MIS software, or management information systems, execute administrative and operational functions: order intake, estimating, customer management, scheduling, web-to-print, accounting, shipping, warehouse management, and data collection.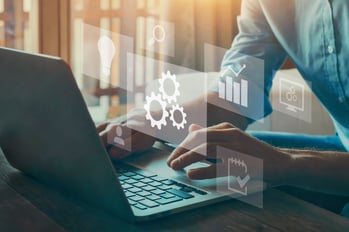 Consider many factors before buying hardware and software. Should you install one module at a time instead of buying a full MIS suite? How much IT support do you need? Is it more efficient to buy from one company or several?
Now that in-person events are happening again, a trade show is an excellence place to compare manufacturers and their products. Most suppliers will also be happy to visit and educate you about their equipment, and several independent consultants specialize in helping printers identify which equipment is best for them.
Marketing and Sales
Consider marketing as a roadmap for finding customers. The first step is to articulate why clients should do business with you. Another approach is to consider how your services make life easier for your customers. Remember, everyone claims to provide excellent service, so you'll need to be more specific to distinguish your company from the competition.
An excellent website is a must. Your website should establish your visual identity, clearly explain what you offer, be easy to navigate, and be up to date. Next, consider how you'll drive traffic to your site. Think about digital marketing, Google ad words, social media, and a customer communication program, such as regular newsletters and blogs. But don't forget that printing is a visual and a tactile medium. Nothing will wow potential customers like samples of well-printed jobs.
Also consider other places you can find customers. Attend trade shows and conferences your clients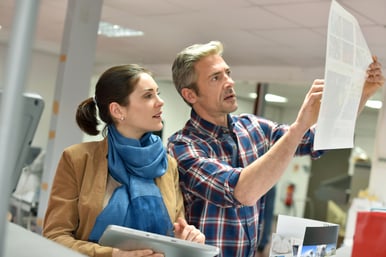 attend, for instance. Partner with graphic designers, or even other printers, who can refer customers to you.
If you're just starting out, spending money on marketing might seem out of reach, but it could be your best investment. You can easily hire someone part-time to help you.
Staffing
Good sales managers and reps are perhaps the hardest positions to staff. The best ones know how to establish relationships with their customers and provide value. They understand customers are concerned about how you can help them achieve their objectives and are less interested in your lineup of equipment. See this article "Knowing Your Customer and Their Needs".
Besides sales reps, you may need equipment operators, accounting staff, and customer service reps. IT support is increasingly important.
Attracting employees from other print companies is a standard way to acquire staff, but is it the best? If you want to attract younger people, go to college and high-school job fairs, advertise on various online platforms, and on social media. Consider what makes younger people want to stay with you. Values change all the time. What mattered to employees five or 10 years ago may not matter today.
Read "Future Employees" for more ideas about recruiting employees for your print business.
It all sounds a little daunting. And yes, running a print company is complex, but it's also very exciting. Plenty of resources are readily available to help at any time.