Roger P. Gimbel, President of Gimbel & Associates, was the Master of Ceremonies for a luxury cruise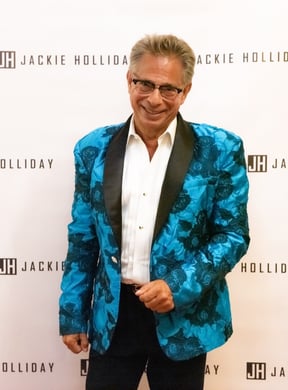 auction during the Endless Summer New York Fashion Week Event on September 5, 2019 hosted by Jackie Holliday Fashions and held at the Pierre Hotel in New York City.
Gimbel & Associates donated a private cruise on the new Hattrick Yacht. The 82ft luxury yacht cruise includes a VIP Tour and Tasting with Luncheon at a North Fork, LI Winery for 20 guests.
Gimbel & Associates attendees at the Holliday event also included Gail Gimbel, Executive Director and Kristin Anderson, Senior Consultant
Proceeds from the event benefited Yamba Malawi Charity. Malawi is one of the poorest countries in the world and YambaMalawi.org helps to create new beginnings for children and lasting change for their communities. Roger Gimbel sports the newest Jackie Holliday jacket in blue silk with rose pattern during the Endless Summer charity auction.